Raina Ruby and Blue Crystal Pendant Necklace
Description
Make a statement with this stunning Raina Ruby and Blue Crystal Pendant Necklace! Handmade in Istanbul, this vibrant pendant is sure to liven up your necklace layering - an absolute must-have in your jewellery collection.
Details
Material: 21ct gold plated recycled brass
Gemstone: dyed ruby semi-precious stone and blue crystals
Dimensions: total length - 42 cm plus 8 cm extender
Weight:
Product code: ETH76-15A-N/AW23
Free worldwide delivery on orders over £100
Handmade with recycled materials
Sustainable & recyclable gift packaging
Raina Ruby and Blue Crystal Pendant Necklace
Shipping
FREE worldwide delivery on orders over £100
with carbon-neutral shipping
-
UK Next day & Saturday delivery
In a rush? To receive your order by 1pm the next day, just make sure to place your order by 1pm on Monday-Friday.
Next day deliveries are available from Monday-Saturday, excluding Sundays and Bank Holidays.
Tracked to your doorstep
Free worldwide delivery on orders over £100 / $100
-
UK Standard Delivery: 2-3 working days
UK Express Next Day Delivery by 1pm (excl. Sundays)
-
EU Standard Delivery: 5-10 working days
EU Express Delivery: 1-3 working days
-
USA Express Delivery: 1-3 working days
ROW Express Delivery: 3-5 working days
FAQ
What's your return policy?
If you are not happy with an item, please return it to us within 28 days of receiving your order unworn and unused, together with the original packaging. Please kindly note that the return period for sale items is 14 days.
-
Please note that earrings and any other pierced jewellery cannot be returned or exchanged for hygiene reasons.
-
Will I have to pay extra customs and fees at delivery?
EU: No VAT / duties at delivery for our EU customers
USA: orders up to $800 will be duty-free
Australia / NZ: orders up to $1000 AUD will be duty-free
-
For most international orders there is likely to be a VAT or customs charge upon arrival of your package, that is determined from country to country. Please check your country's import value threshold to determine whether your order will incur extra fees or not.
How do I look after my jewellery?
To keep your Ottoman Hands jewels beautiful and shiny for longer:


- wipe your semi-precious stone jewellery with a clean, soft cloth after wearing;
- do not expose your jewellery to water or damp conditions;
- avoid exposing your jewellery to chemicals such as perfumes, household cleaning solutions and other sprays, lotions and potions as this could cause discolouration;
- ideally, store your jewellery in a soft lined box or Ottoman Hands pouch and try to keep pieces apart, so that they do not rub together or tangle.
What is your guarantee?
Every Ottoman Hands piece purchased on our website is covered by a 6-month warranty with a valid proof of purchase. If the products you've purchased need repair or replacing please contact our Customer Support team.
Sustainability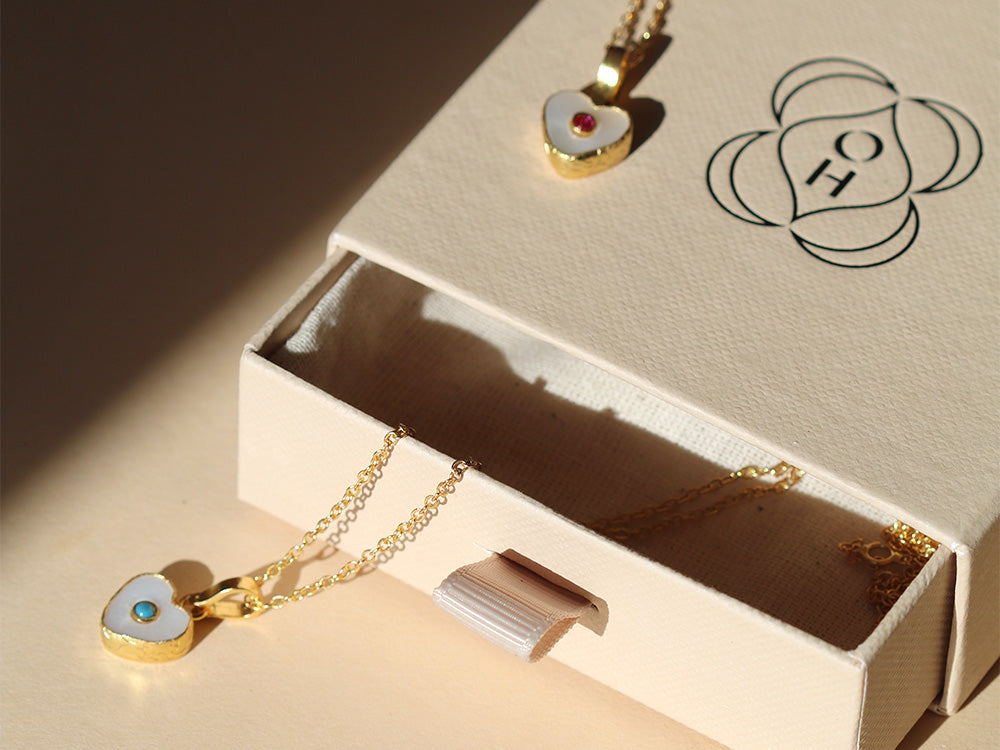 Our packaging
Our mailing boxes and our jewellery boxes are created with FSC paper from 70% recycled sources and our pouches are made from 100% cotton.

With no foam or velour inserts, our packaging is not just beautiful to gift and reuse, but also plastic-free, 100% recyclable and biodegradable.
Our hands
Our name, Ottoman Hands, was inspired by the artisans that create our unique jewellery.

We will only ever work with manufacturers who share our values and treat their workers fairly. To this day, we are working with the same workshop in the heart of Istanbul, that produces the majority of our hand-crafted jewellery.

Our materials
We have been using recycled metals since the very beginning of our brand, back in 2010.
We use either 21ct gold-plated recycled brass or 18ct gold-plated recycled sterling silver, without compromising on the purity and quality of our pieces.
Gold points for you
We've launched our loyalty club where you can earn points while you shop or refer a friend - then redeem them to get even more jewellery for less.

Can't say we don't spoil you!
Free carbon-neutral shipping
Next day delivery & Easy returns